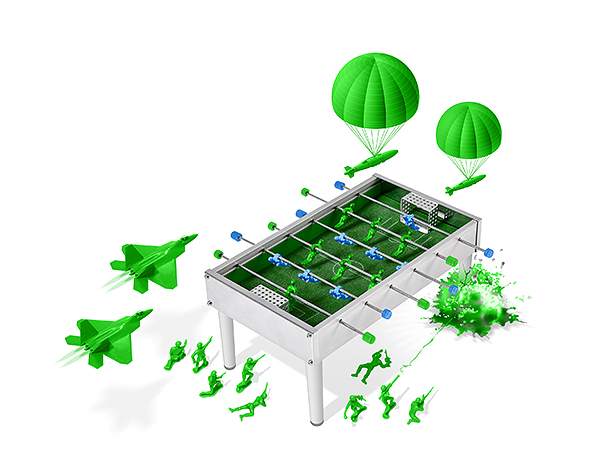 Battlefield,
more ubiquitous than you could imagine
Learn about Red Team Assessment
News
You need more comprehensive testing!
Have you ever thought of these questions: "I have already bought security equipments, but why did I still get hacked?" "Our bank regularly performs penetration tests. Why did our sensitive information still get stolen/unlawfully disclosed?" The information asymmetry between the attackers and the defenders is often the main reason why the organizations have difficulty defending themselves. Oftentimes, the presumed battlefield is not the focal point, but in boundary areas that were usually considered as completely unimportant instead. Would it be adequate to purchase traditional security services only? What you need is a more thorough Red Team Assessment.
What is Red Team Assessment?
Red Team Assessment is a simulated intrusion attack on an organization without affecting their regular operation. In a limited time period, attacks will be made from various entry points in an attempt to meet the testing tasks and requirements set forth by the organization.
Service Benefits
A comprehensive attack drill by simulating a hacker group
We specialize in simulating the meticulous strategies of the hacker groups, providing all kinds of necessary attacks to invade all possible contact points between the organization and the customers, providing the overall risk assessment to the organization that is the closest to the current situation.
Identify potential critical risks in no time
Our goal is to achieve an attack under an intrusion scenario within a limited time period, then verify and check whether the organization's sensitive data, servers, databases, etc., are at higher risk of being compromised.
Strengthen Corporate Security Team with Red Team Assessment
Through "Red Team Assessment," we will carry out a comprehensive analysis of the weaknesses for the organization's internal security team and advise the corresponding countermeasures, in order to be prepared before the real hackers launch surprise attacks, and ensure the integrity of organization's security.
Protect your business and customers
At DEVCORE, our "Red Team Assessment" simulates the invasion from real hackers, identifies potential risks, safeguards the cyber security of enterprises and customers, and prevents possible public relations crisis.
Who needs Red Team Assessment?
Listed/OTC-listed companies and capital intensive industries that are often targeted
Organizations with great digital assets, requiring the most comprehensive testing
Organizations with information security as the center of their corporate image
Organizations with sensitive data that needs protection
Organizations which are interested in challenging their own defense capabilities
DEVCORE satisfies your needs!